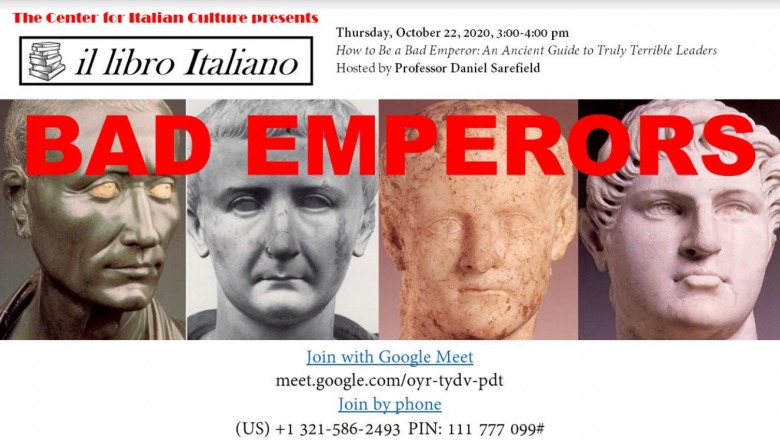 The Center for Italian Culture (CIC) at Fitchburg State University will host a virtual book club for the 2020-21 academic year, with faculty members leading community discussions.
The year's programs begin at 3 p.m. Thursday, Oct. 22, with a discussion of some of history's worst leaders led by Professor Daniel Sarefield of the university's Economics, History and Political Science Department. Sarefield will talk about How to Be a Bad Emperor: An Ancient Guide to Truly Terrible Leaders by Suetonius, edited by Josiah Osgood. Join the discussion at https://meet.google.com/oyr-tydv-pdt or by calling in to 1-321-586-2493 and entering PIN 111 777 099#.
Suetonius' original book, written 2,000 years ago, presents briskly paced, darkly comic biographies of Roman emperors Julius Caesar, Tiberius, Caligula and Nero. The tales of these anti-role models show how power inflames leaders' worst tendencies, causing almost incalculable damage. The book is presented in English, with the original Latin on the facing pages.
The series will continue at 3 p.m. Thursday, Feb. 11, when Professor Teresa Fava Thomas leads a discussion of Saving Italy: The Race to Rescue a Nation's Treasures from the Nazis by Robert M. Edsel.
The programs conclude at 3 p.m. Thursday, March 25, when Professor Rala Diakite of the Humanities Department leads a discussion of Clash of Civilizations over an Elevator in Piazza Vittorio by Amara Lakhous.