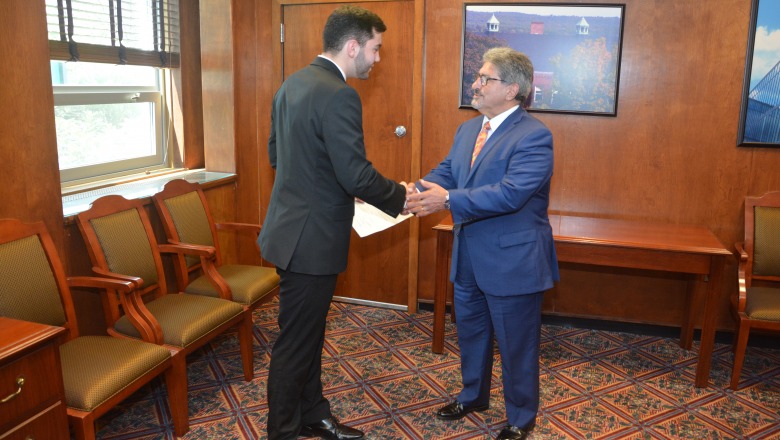 Joseph Cautela III was sworn in Thursday as the new student representative to Fitchburg State University's Board of Trustees.
The oath of office was administered by Fitchburg Mayor Stephen L. DiNatale, himself a graduate of Fitchburg State.
Cautela, from Hudson, will begin his senior year at Fitchburg State in September, where he is studying history with a licensure in secondary education and an ambition to be a high school teacher after graduation.
"I really want to make an impact on the world," said Cautela, an avid follower of politics and a believer in the importance of civics education.
Cautela has been an engaged student throughout his time on campus. He served as treasurer of the Student Government Association, which brought him into close contact with the university's dozens of clubs and student organizations.
In addition to that role, Cautela is a resident assistant (RA) in several residence halls and will be a building manager this fall in Hammond Hall, the student-run campus center.
As a voting member of the Board of Trustees, Cautela hopes to be a responsive voice for his fellow students, advocating on issues including keeping college affordable.
"Being an RA, being part of student government, and being in the campus center, they've all provided me with valuable perspectives," Cautela said. "I get to meet a lot of people and hear a lot of students' stories."