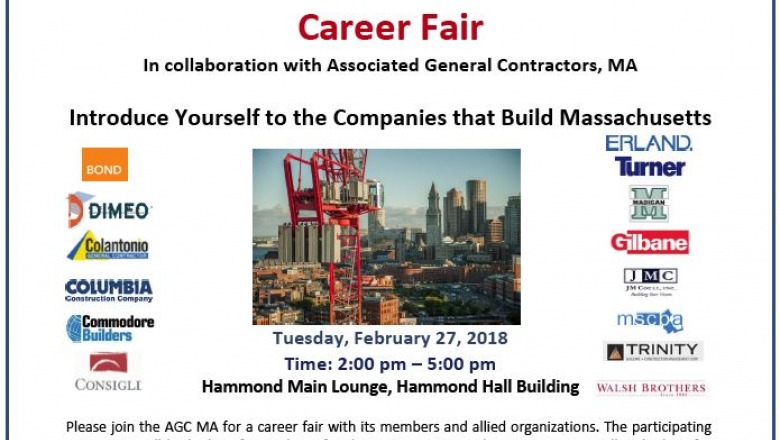 The Associated General Contractors of Massachusetts (AGC MA) has been working with the University's construction technology program (part of its Industrial Technology Department) since the fall semester on efforts to develop the next generation of construction managers.
The partnership should help construction firms meet workforce needs and support the University's programs through the creation of a new Industry Advisory Board, according to AGC MA Director of Industry Advancement & Labor Relations Brendan Carter.
"This Industry Advisory Board is made up of construction executives, state officials and Fitchburg State faculty, administration and alumni, for the purpose of providing students with industry support and enhancing their classroom education with seminars, guest lectures, site visits and internship opportunities," Carter said.
The career fair will feature industry leaders from some of the state's largest, most respected construction companies meeting with students to discuss internships and full-time positions, from construction management and architectural technology to business development and financial positions.
"AGC MA is enthusiastic about its partnership with Fitchburg State and thinks that the career fair will be a first major step in the joint effort to educate and create the top construction management students in the state," Carter said.
"Fitchburg State has always strived to create meaningful, practical opportunities for students to apply their scholarship, and we're grateful for this partnership," Vice President for Academic Affairs Alberto J.F. Cardelle said. "We know our students will take advantage of the opportunities this collaboration will yield."
Some of the largest construction firms in Massachusetts will be engaging with Fitchburg State students when the University hosts a career fair from 2 to 5 p.m. Tuesday, Feb. 27 in Hammond Hall.