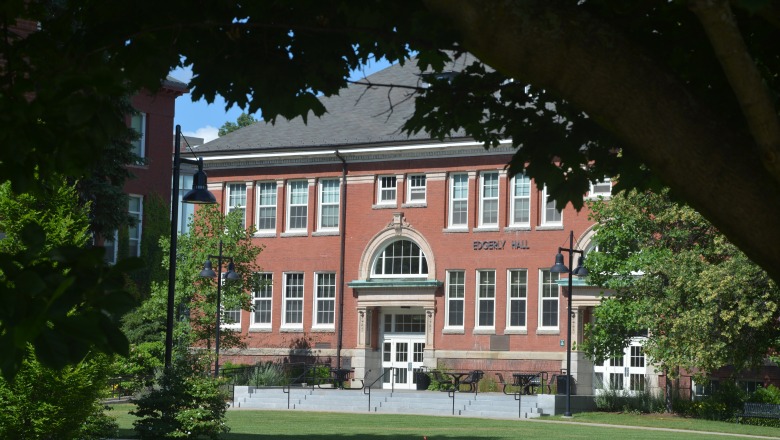 Fitchburg State University will welcome students back to campus this month with an operational model designed to protect the health and safety of the community while honoring its commitment to students' educational objectives.
"This will be a very different semester for our campus community, but the accommodations will serve our students as they pursue their degrees and assist with public health," Fitchburg State President Richard S. Lapidus said. "Our faculty, who shifted gears so rapidly this spring to accommodate a remote semester, have taken advantage of training and resources to begin the fall strong. And our student support services stand ready to assist by in-person and remote avenues."
While there will be time periods this week for students to drop off their belongings in advance (by appointment), the main move-in for new students will take place Monday, Aug. 31. Residence halls are opening at approximately 65% of capacity, with most rooms being used for single occupants. North Street between Pearl and Ross streets will be closed to traffic during the move-in (approximately 8 a.m. to 4 p.m.) on Monday, and portions of Highland Avenue and Cedar Street may be closed at times as well. The university is restricting the number of guests accompanying students during move-in.
Classes will begin Thursday, Sept. 3.
Other steps the university is taking to be safe during the pandemic include:
All members of the campus community are required to take a training course on COVID-related hygiene and prevention before the semester begins.
New student orientation is being offered in a virtual model.
The university will offer COVID testing to all students, faculty and staff beginning this week. Once the semester begins, the university will be testing a random sample of 425 members of the campus community each week. Any positive results will be shared with the city's Health Department and a contact tracing regimen will be enacted.
Classes will begin Thursday, Sept. 3, with approximately half of courses offered in a hybrid model mixing in-person and remote sessions. Many courses will be completely remote, and there will be a small number of exclusively face to face classes, including labs
All spaces on campus have been de-densified to allow for social distancing and advisory signage has been posted throughout campus.
Students on campus meal plans will be served at a number of takeout stations. No seated dining options will be available this fall.
As announced earlier this summer, the Massachusetts State Collegiate Athletic Conference has canceled all sports competitions for the fall.
The university has canceled its annual Homecoming events.
For additional details on the university's plans for the fall, please visit fitchburgstate.edu/reopening. All campus communications related to the pandemic are being posted to fitchburgstate.edu/coronavirus.