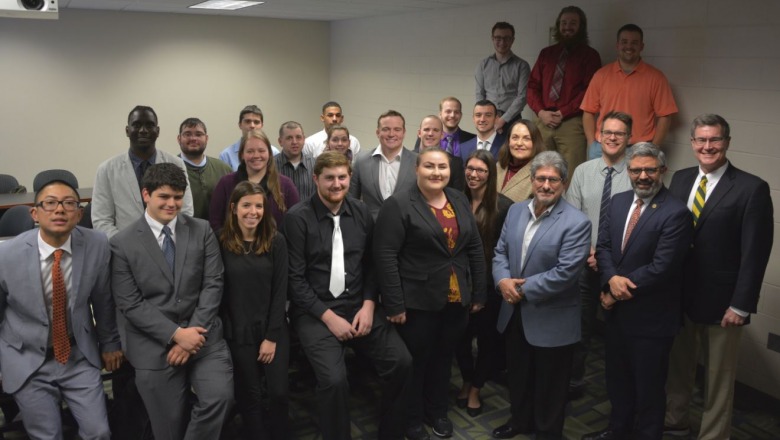 The city of Fitchburg should focus on building community, strengthening business-friendly policies, supporting efforts that create a positive self-image, and celebrating its partnership with Fitchburg State University, according to a comprehensive study completed by university students.
The students in Professor Michael Greenwood's business policy and strategy class presented their findings – and the data that supported their conclusions – to Fitchburg Mayor Stephen DiNatale and members of his economic development team in December.
The class's recommendations included:
Bring local leaders and residents together by creating community associations focused on improving the city by accomplishing common goals with an emphasis on unity, safety, sanitation and culture.
 
Launch a "public positivity" campaign which promotes city virtues and addresses the deviation between perceptions of the city and statistical data. It markets the city in a new light by defining important values that the city is working to improve and maintain.
Utilize Fitchburg State as a competitive edge and collaborate with the university community for input on policy and strategy modification. The city and university should be marketed as a cohesive partnership that generates ample opportunity for students, residents and businesses.
If implemented correctly, students said, the plan would see the city retaining more Fitchburg State graduates and create opportunities for current students to assist the city's ongoing revitalization efforts.
Angelique Chaput, a senior majoring in business administration, called working on the project an honor and a privilege. "Many long hours of hard work have been put into that project through the collaboration of students from a variety of business programs," she said. "We strived to create practical and innovative strategies that would assist the city in developing a strong marketable identity."
Chaput said the effort provided a valuable opportunity to apply classroom skills with the real-world issues facing the city. "I hope that our hard work will pay off and advance the city of Fitchburg and bring improvements to our community," she said. "I am confident that with increased collaboration between local leaders and students, we can forge a strong marketable identity that will be useful in increasing students, residents, visitors, and investors."
"We're so fortunate to have Fitchburg State," Mayor DiNatale told the students as he held up their printed analysis. "You knocked it out of the park with this."
Vice President for Academic Affairs, Alberto Cardelle, attended the presentation and saluted the students' instinct to explore "public scholarship" that brought the community and campus together on a practical exercise.
"This is the sort of project and endeavor that we want to encourage across the University," Cardelle said.