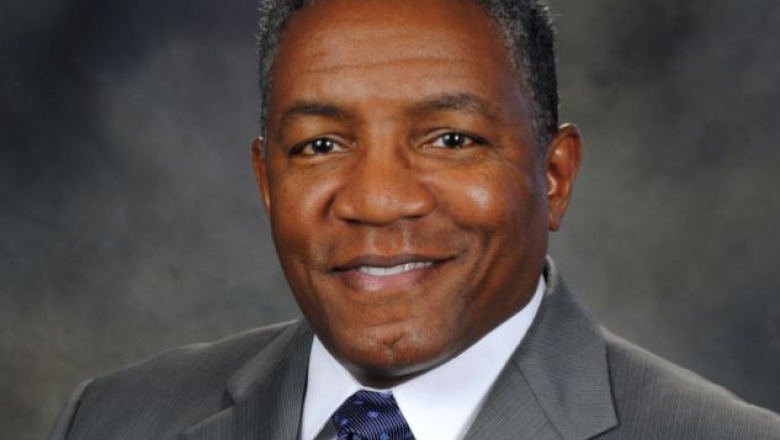 Brig. Gen. Frederick A. Henry, U.S. Army, retired, will deliver the commencement address at Fitchburg State University's undergraduate commencement ceremony at 10 a.m. Saturday, May 19.
Fitchburg Access Television will stream the ceremony live at fatv.org.
Gen. Henry graduated from Fitchburg State in 1984 with a degree in industrial technology. The Boston native currently serves as Vice President for Defense Information Systems Agency (DISA) Programs and Department of Defense (DoD) Agencies for Unisys, a global information technology (IT) company that builds high-performance, security-centric solutions for some of the most digitally demanding businesses and governments around the globe. Before joining Unisys in 2015, he served as the Chief Operating Officer for TapLink, a tech startup company. He also founded Barrow and Associates, LLC, an IT consultancy company.
Prior to his successful transition into the commercial sector, he served 30 years in the United States Army before retiring in 2014 as a Brigadier General. During his successful military career, he held numerous operational, technical and leadership positions that culminated with his final assignment as the Chief of Staff for DISA.
"We are honored to welcome Gen. Henry back to campus to share his inspiring life story with our graduates and guests," Fitchburg State President Richard S. Lapidus said. "His lifetime of service, professional accomplishment and commitment to community set a remarkable example for the Class of 2018 to follow."
Gen. Henry will also be awarded an honorary degree at the undergraduate commencement ceremony.
He currently serves on the Advisory Board for the DJ Dream Fund Foundation; a Boston area non-profit organization dedicated to helping kids lead healthy lifestyles through athletics, wellness and arts programs. He is also on the Board of Directors for the Prince William County Virginia Chapter of the Boys and Girls Club of America and the Armed Forces Communications and Electronics Association DC Chapter. He is an advocate for empowering minority and disadvantaged students to pursue studies and careers in of Science, Technology, Engineering, and Math (STEM) and has served as a panelist at STEM conferences and keynote speaker at other events.  He is a member of the Information Systems Audit and Control Association, Association of the United States Army, and Phi Beta Sigma Fraternity, Inc.
Gen. Henry received his undergraduate degree from Fitchburg State University in Industrial Technology with a minor in marketing. He has also received a master's degree in Strategic Studies from the Army War College and an MBA from the University of Maryland College System (Bowie State).  In 2013, he was inducted into the Worcester Polytechnic Institute, Bay State Battalion, Military Hall of Fame and named the Fitchburg State University Alumni of the Year. In 2008, he was the Department of the Army Information Assurance Military Professional of the Year.
He is married to the former Latonya Alexander of Nashville, Tenn. They currently reside in the Washington D.C.-area suburb of Lorton, Va.
The university will hold its graduate commencement ceremony at 6:30 p.m. Thursday,  May 17 in the Athletics and Recreation Center, where certificates of advanced graduate study and master's degrees will be awarded. Between the two ceremonies, Fitchburg State will recognize more than 850 new graduates in May.