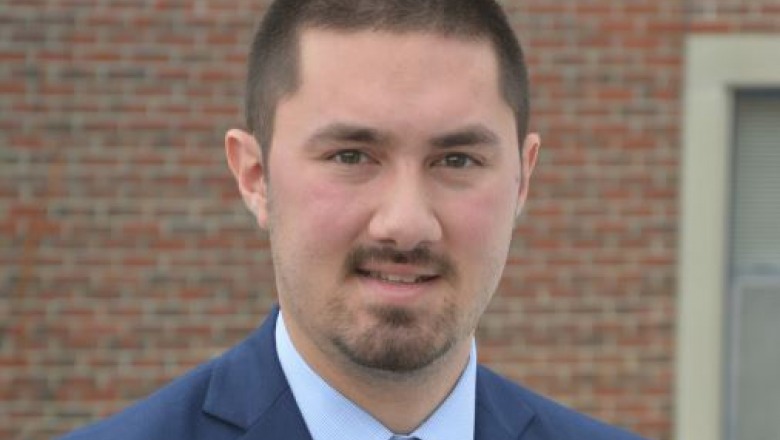 For Brideau, working in student affairs was an unexpected detour. As a high school senior, the Leominster native was looking for schools within commuting distance of his home, and he was familiar with the Fitchburg State campus from competing in the high school track meets at Elliot Field. He also liked what he saw of the Mathematics Department, which was his anticipated course of study.
After spending time as a commuter student, Brideau sought a residential experience. So he applied to become a resident assistant—or RA—where his housing costs would be covered. He got a lot more than a roof over his head from the experience, developing problem-solving skills and the ability to respond to potential crises. "When you become an RA, you see the world differently," Brideau said.
He competed as a student-athlete all four years of his undergraduate program in mathematics, and decided to stick with Fitchburg State in pursuit of his Master of Business Administration with a concentration in accounting (he will graduate in May). He also kept involved with Student Affairs, becoming a resident director—or RD—at Simonds Hall on North Street.
The 150-bed, suite-style residential facility was developed as private housing, but was purchased in 2017 by the Massachusetts State College Building Authority (MSCBA). As the RD at Simonds, Brideau was called upon to play a central role in the acquisition process. From taking inventory of assets like furniture to communicating with tenants about transition plans, there was a lot of work to do in a short period of time, according to Fitchburg State Housing and Residential Life Director Kristin Murphy. The state officials working on the project had high praise for Brideau's performance, lobbying to have his university employment agreement extended into the summer months so he could continue his high level of performance.
"One thing that sets Brandon apart is his exceptionally high level of integrity," Murphy said in nominating Brideau for the NASPA award. "It is apparent to all who interact with him as he communicates honestly and authentically at all times. So many people have responded positively to his work ethic, his professionalism and the outstanding results that he produces in relation to any task he is given, no matter how big or small. As a department head, I am constantly complimented on his work and demeanor by others."
Brideau will attend the NASPA national conference in March where he will be recognized in person as well as on the organization's website.
"I've gained so much from my college career," Brideau said. "These six years have flown by."
Brandon Brideau '16, '18 will represent Fitchburg State at the NASPA National Conference in Philadelphia this March when he receives the NASAPA NOW Professional Award. The new award is being offered by the leading association for the advancement, health and sustainability of the student affairs profession.