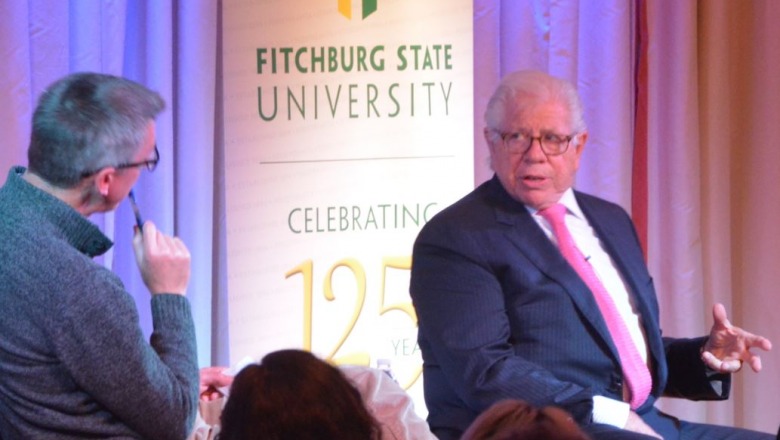 The talk was part of the University's 125th anniversary celebration. Professor Kyle Moody (Communications Media) introduced the talk by discussing the importance of combating "fake news," a topic he has presented on at forums around the region.
Several university students were also in attendance and had the opportunity to speak with Bernstein after his remarks and a question-and-answer session with WGBH senior political correspondent Adam Reilly.
Bernstein said that journalism exists for the public good, and not to further the interests of media companies or the agendas of their owners. "Our primary function is to give our readers the best obtainable version of the truth," he said. "That's something that's very difficult to achieve."
Bernstein said Trump has been disturbingly effective in branding journalists "the enemy of the people," feeding on public distrust of the media.
"Trump's response to a free press has been even more insidious than Nixon's, and more effective," he said, labeling the president a pathological liar. "Lying and untruth is the enemy of the people."
Bernstein said he believes the president will be impeached by the House of Representatives but will be acquitted by the Senate, even though many Republicans are privately aghast at Trump's conduct. "Some Republicans are choking on what's going on right now," he said. "Would that they would choke out loud."
Carl Bernstein, the legendary journalist who helped expose the Watergate scandal that toppled the presidency of Richard M. Nixon, discussed the challenges facing journalism in the Trump era at an address Sunday co-sponsored by the University.