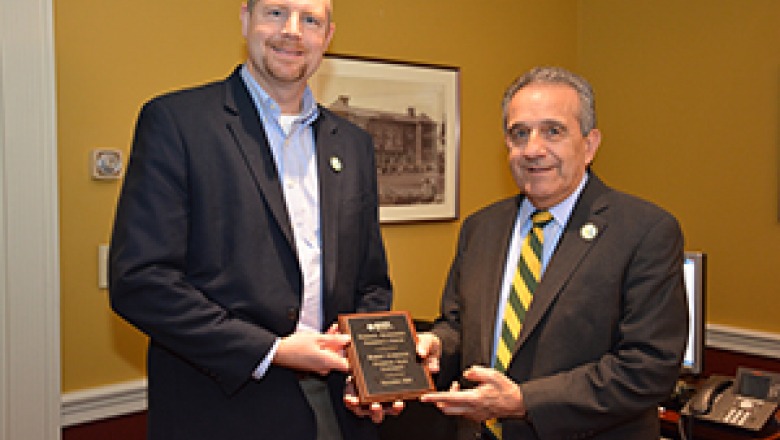 Antonucci was nominated for the award by Fitchburg State Associate Dean for Student Development and Housing Hank Parkinson. The honor was presented at NASPA's Region I awards ceremony in Providence, R.I.
"President Antonucci is the most student-centered president I have ever encountered," Parkinson said. "He is 110 percent invested in our students and the areas that support student life."
"I am honored to be recognized by NASPA and appreciate the warm testimonials from members of the campus community," Antonucci said. "Our job is to put students first, and I am proud that this vision has been embraced across the campus."
Parkinson also cited Antonucci's commitment to providing top-tier academics, facilities, technology and community engagement.
"President Antonucci joined the Fitchburg State community 12 years ago with a vision of creating an engaged campus," Parkinson continued. "As President Antonucci gets ready to retire this summer, it is with great pride to say that he has accomplished this vision. Students are involved with clubs, organizations, events, intramurals, athletics, commuter affairs, leadership development, residence life, and the Center for Diversity and Inclusiveness, to name a few. President Antonucci's leadership, vision, enthusiasm, and approachability has truly created a family-like atmosphere on campus. No one cares more for our students then 'Prez Bob.' He has put his heart and soul into this institution, and Fitchburg State University is a better place for it."
Fitchburg State University President Robert V. Antonucci was recently presented the President's Award from the National Association of Student Personnel Administrators (NASPA), given in recognition of his commitment to advancing the quality of student life on campus.