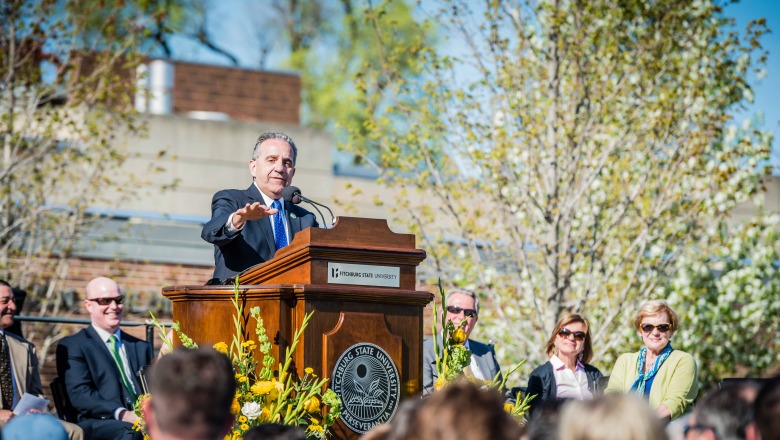 The Robert V. & Jeanne S. Antonucci Science Complex was dedicated Thursday, May 7 at a ceremony attended by students, faculty, staff and guests including elected leaders and members of the Antonucci family.
The emotional ceremony capped an afternoon of celebration that began earlier with a barbecue on the main quadrangle, where the campus community gathered to pay tribute to President Antonucci as he prepares to end his 12-year tenure at Fitchburg State.
The Board of Trustees voted earlier this spring to name the complex for President and Mrs. Antonucci.
"No student who goes to a public university should have second-rate facilities," President Antonucci said to thunderous applause. "When I say we're the number one state university, I mean it."
Jeanne Antonucci described their journey from being a young married couple in the 1960s, just after graduating from Fitchburg State, to returning to the campus in 2003.
"We were embraced by everyone on this campus," she said, pledging the campus community would remain in their hearts forever.
The dedication ceremony, presided over by Board of Trustees Chairman Martin F. Connors Jr., included welcoming remarks by U.S. Rep. James McGovern and reflections from U.S. Rep. Niki Tsongas, each of whom described the commitment and leadership demonstrated by President and Mrs. Antonucci.
"I've watched in awe as this institution has grown over the years," said Rep. McGovern, who noted many of his constituents have attended Fitchburg State. "This building is a critical investment in our future. (Antonucci's) commitment to educational excellence is clear."
Rep. Tsongas described the importance of the sciences to the region, and paid tribute to the use of university resources to better the community.
"The University and the city are indelibly intertwined," she said.
State Rep. Stephen DiNatale, an alumnus of Fitchburg State, described the era of construction that began with Antonucci's arrival in 2003, likening the president to the pharaoh Ramses.
Fitchburg Mayor Lisa A. Wong also saluted the relationship between the campus and the host city.
"I have never met a harder worker than Bob Antonucci," she said. "The secret to his hard work is having someone like Jeanne Antonucci by his side."
Leominster Mayor Dean J. Mazzarella cited the Antonuccis' roots in Leominster and their long commitment to the region.
"We're very proud of what you've done as a team," he said.
Interim Dean of Health and Natural Sciences Meg Hoey described her enthusiasm for the building, noting the complex was the result of many hours of hard work fueled by collaboration across disciplines.
Associate Professor Christopher Picone described "the Age of Antonucci" in his remarks as a golden era for the sciences at Fitchburg State. The number of full-time science faculty rose 70 percent during the past 12 years, he said, while the number of majors in the sciences rose by more than 3.5 times.
"This building sends a message about our values at Fitchburg State," Picone said. "We are going to offer an Ivy League education whether or not you can afford one."
Student Robert Pijewski described how the new facilities have enhanced his experiences studying biology and psychology. The science complex is outfitted with equipment that exceeds that found at other institutions, he said.
"I know that when I graduate, I will have skills that other students from other universities won't have," he said. "I know that these facilities are going to foster more involvement from the student body in research or pursuing science degrees.
"President Antonucci has had a great impact on this institution," Pijewski continued. "Without him, we wouldn't have the beautiful campus center or the renovated and updated classrooms across Fitchburg State. This science complex is a true testament to 12 years of devotion and hard work by President Antonucci, and is a new beginning for students who will study science at Fitchburg State for generations to come. I can't imagine spending the last six years of my life anywhere else than this close-knit community.
"The faculty, staff, administrators, students, and now the Robert V. and Jeanne S. Antonucci Science Complex, goes to show us why Fitchburg State is, as the president says and will continue to say, the number one state university."
Trustee Carol Vittorioso introduced the Antonuccis by recounting the warmth and friendship that has been a hallmark of their tenure on the campus. That spirit is echoed in their creation of the Robert V. and Jeanne S. Antonucci Student Leadership Award, as well as the Antonucci Family Scholarship, launched to help a first-generation student from North Central Massachusetts attend college.
"They consider people skills as important as leadership skills," Vittorioso said.
A gallery of photos from the event can be seen on the University's Facebook page.
The ceremony included a special video presentation chronicling the years of construction for the 110,000-square-foot complex. Watch the video below.