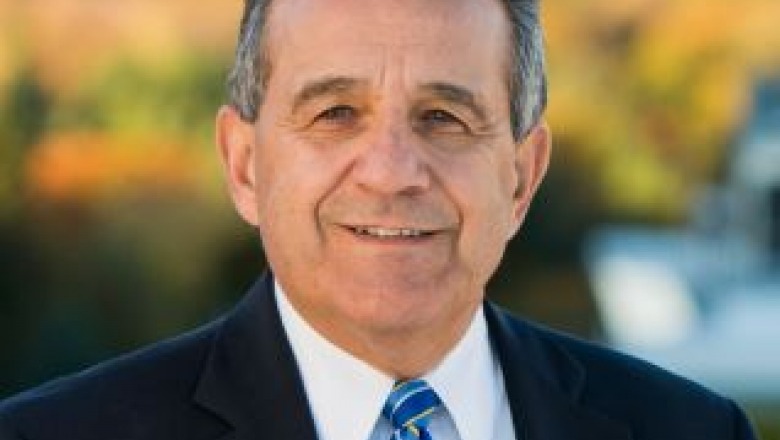 The occasion will mark President Antonucci's last major public event as head of the institution. He is retiring in June after 12 years with Fitchburg State. His speech on May 16 also continues a tradition he began—inviting notable alumni back to campus to deliver the commencement address. President Antonucci completed undergraduate and graduate degrees at Fitchburg State in 1967 and 1970, respectively, and was presented with an honorary degree and the Distinguished Alumnus Award before returning to campus as president in July 2003.
"It is fitting that we cap President Antonucci's remarkable tenure at Fitchburg State with the commencement address on May 16," said Board of Trustees Chairman Martin F. Connors Jr. "Like so many of the accomplished alumni we have honored at previous commencements, Bob embodies the University's institutional values of hard work and dedication. We are honored that he will share his wisdom with the graduating students."
Antonucci's record of success at Fitchburg State includes the drafting of a new strategic plan, structural reorganization, completion of a record-setting capital campaign, and oversight of an unprecedented number of major capital projects: construction of a new science complex, renovation of the campus center and dining commons, conversion of the University's aging outdoor athletic facilities into a new professional-level stadium, and establishment of a Center for Teaching and Learning. He also embarked on an ambitious series of technology initiatives, including establishment of a "wireless" campus, a total upgrade of computer laboratories, and the creation of dozens of new classrooms that allow faculty access to the latest technologies.
From his first days in office, President Antonucci has worked to strengthen the University's commitment to the city of Fitchburg. The multi-year effort to create an attractive boulevard connecting the University's central artery, North Street, with the city's Main Street has been accelerated with the purchase of several distressed properties, construction of a new campus police station, relocation of the Center for Professional Studies to Main Street, and completion of the final phase of streetscaping. An exercise and sport science facility was also built in the corridor, and a former public street that ran through the University was redesigned to include a tree-lined plaza connecting a number of residence halls to the main campus.
A 35-year veteran of education, Antonucci served as the Commonwealth's commissioner of education from 1992 to 1998. He played a key role in the passage and enactment of the state's historic Education Reform Act of 1993, a landmark law that served as a national model.
In North Central Massachusetts, he has served on countless boards, often in leadership positions, and has received a number of community awards.
Fitchburg State will hold its graduate commencement ceremony on Thursday, May 14 at 6:30 p.m. in the Athletics and Recreation Center, 130 North St. President Antonucci will make brief remarks at that ceremony as well.
Fitchburg State University President Robert V. Antonucci will deliver the commencement address at the institution's 119th commencement exercises on Saturday, May 16 at 10 a.m. on the main quadrangle.