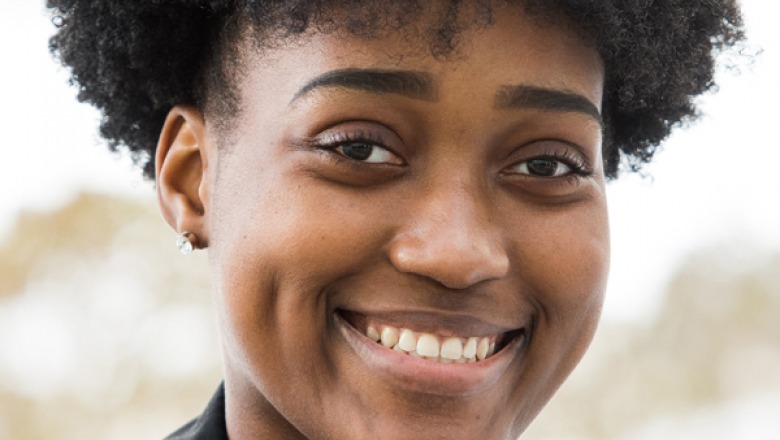 Crystal Aneke of Quincy, who graduated from Fitchburg State University in December, will represent her alma mater this week when the Commonwealth of Massachusetts recognizes "29 Who Shine," honoring a graduate from each of its public institutions of higher education.
The Department of Higher Education's virtual 29 Who Shine celebration will premiere at 2 p.m. Thursday. A link to the virtual ceremony will be posted this week to www.mass.edu/system/29whoshine.asp.
Aneke graduated from Fitchburg State in December with a major in political science and minors in economics and criminal justice. She was a distinguished student at Fitchburg State. As the elected student representative to the university's Board of Trustees, Aneke worked to amplify student voices in university affairs. In her role with the Black Student Union, Aneke moderated a powerful panel discussion on Black Lives and Blue Lives that included students, staff, and police officers. This was followed by the launch of a series of "Courageous Conversations" on themes related to diversity, equity and inclusion that brought members of the campus community together in virtual space.
Aneke also lent her voice to the Unity Rally that occurred on campus in September 2020, which was another powerful opportunity for members of the campus to engage with and learn from one another.
Beyond that work in student leadership, Aneke stood out as a member of Fitchburg State's successful Moot Court team, earning national honors competing against elite peers from across the country.
She will continue practicing those skills in her next venture, with plans to attend law school this fall and ambitions to practice public interest law as a career.
Aneke identified Professor Paul I. Weizer from the Economics, History and Political Science Department as her faculty mentor. Professor Weizer will also be recognized during the virtual celebration this week.
"At times all one needs is a person to believe in them," Aneke said. "A figure who despite the odds, still provides encouragement and support unconditionally. For me, this person is Dr. Paul Weizer. When I couldn't see the light, he made sure to steer me away from darkness."