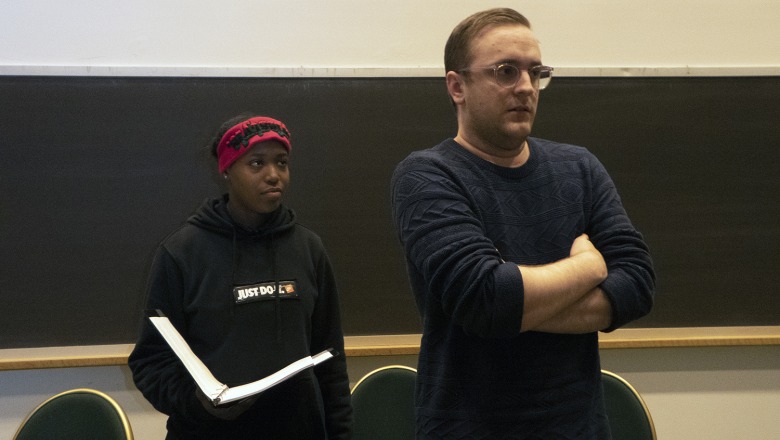 7:30 p.m. Saturday, Feb. 23
at Kent Recital Hall in the Conlon Fine Arts Building, 367 North St. Admission is free and open to the public.
The readings will be staged by The Forge Theater Lab, founded by Fitchburg State Professor Kelly Morgan and several university alumni with a mission to develop new works. The opening show is "Chasing the Ghost" by Ashley Rogers, an award-winning playwright whose work has been performed throughout the country. Rogers, who graduated from Fitchburg State in 2006, will be in attendance for a discussion of the play after the reading.
"Chasing the Ghost" deals with potent topics including online bullying and the #MeToo movement. It contains profanity and disturbing situations and is not recommended for children under 14.
"'Chasing the Ghost' was inspired by a series of accounts, some real, some not, of people calling the police over someone breaking into their apartments and houses to tickle their feet which, as of my research, very few had ever been caught or charged for these crimes," Rogers said. "I wanted to explore my own thoughts about why my, and I imagine many people's, response to this story was to laugh, and what that says about us as a society and the implication of laughing at a story like this. It's also my way to talk about abuse and how online video game culture can feel toxic and why." 
"Recently our society has undergone a big shift as we all rethink how women are treated in public, at work and online. Ashley Rogers has written a play that takes on this issue in a fresh and thoughtful way," said Samantha deManbey, the show's director and one of the Forge Theater Lab founding members. She graduated from Fitchburg State in 2012 and now works on its staff.
The cast of "Chasing the Ghost" includes Leeann Monat as well as current Fitchburg State students Meighread Dandeneau '19 and Cheyenne Winley '20, along with Fitchburg State alumni Charles Amaral '08, Noah Dawson '14, Brittany Messuri '18 and Austin Swallow '07.
While admission is free, The Forge Theater Lab will be accepting donations at the door.
New plays written by Fitchburg State University alumni will be presented at staged readings on campus this spring with the series beginning at