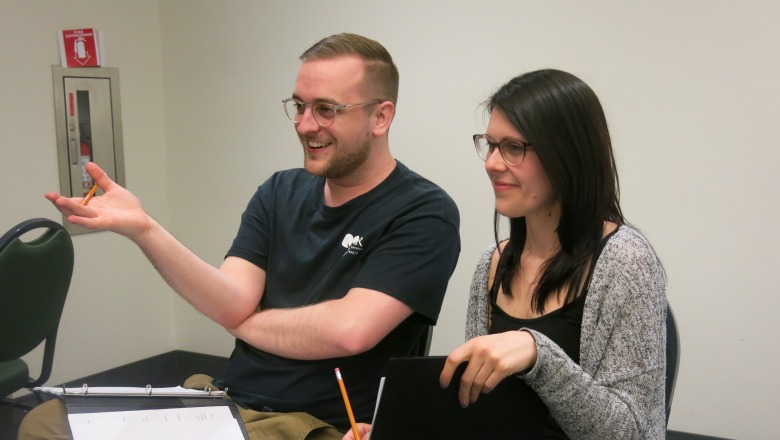 7:30 p.m. Saturday, May 25
at Kent Recital Hall in the Conlon Fine Arts Building, 367 North St. Admission is free with a suggested donation of $3 to $10 and open to the public. The staged reading will be followed by a talk back session with the playwright.
"Good Grief" follows recovering addict Maggie as she deals with the sudden loss of her younger brother. It explores a journey of loss, recovery, and hope in the age of social media. This performance is not recommended for children under age 14.
This is the third of four new plays written by Fitchburg State alumni that will be presented this spring. A staged reading is a presentation of a play in which actors read from a script, but have rehearsed the scenes to help the audience imagine what the play would look like in a full production.  This series of staged readings will be presented by The Forge Theater Lab, founded by Fitchburg State Professor Kelly Morgan and several university alumni with a mission to develop new works. Learn more on their website.
Playwright Mary Darling graduated Fitchburg State in 2014 and has since gone on to write, act, and direct throughout Massachusetts. She said she decided to write the play "because I feel like grief is a universal experience, however, I think the way it is handled varies." The play is a project Darling has been working on for two years and draws on several interviews with people who had suffered a great loss in their lives.
"Good Grief" is directed by Noah Dawson '14, with dramaturgy by Erik Nikander '16. The cast includes current Fitchburg State students Ken Roberts '20 and Steven Beck '20, and Fitchburg State alumni Charles Amaral '08, Jen Knight '89, Brittany Messuri '18, along with local actors Kayla Schenk and Leeann Monat.
A staged reading of a new play, "Good Grief," written by Fitchburg State University alumna Mary Darling '14 will be presented at the University