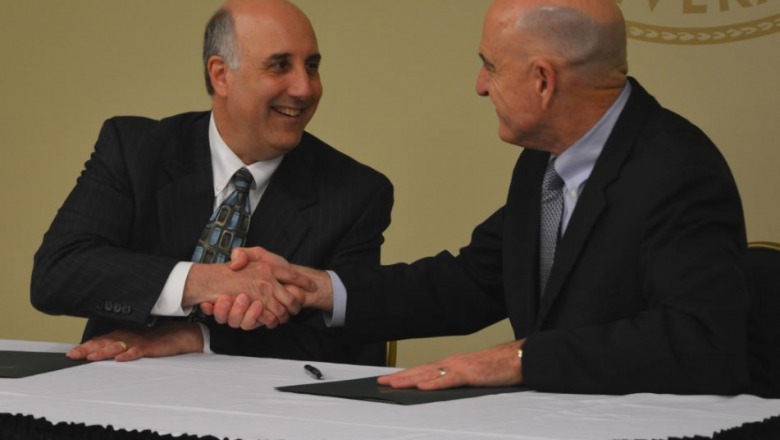 Leaders from Fitchburg State University and the state Municipal Police Training Committee signed an agreement this week codifying the University's "4+1" criminal justice program that will result in candidates earning bachelor's and master's degrees, and full police certification, in five years.
The first cohort of students to complete the bachelor's program will graduate next month and begin their master's studies this summer. By next year, they will be "street ready" to work in any municipal police department in Massachusetts.
Fitchburg State President Richard S. Lapidus and MPTC Executive Director Daniel Zivkovich signed a memorandum of agreement on Tuesday, April 4, formalizing the program that launched two years ago. The criminal justice police concentration now has 96 students, from the first cohort completing their undergraduate degrees next month to 68 first-year students.
"This program provides a set of skills that are not afforded to many other students interested in the policing world," Lapidus said. "We're not cutting any corners here. We're just adding tools to the toolbox."
Zivkovich said the program is believed to be the first of its kind in the nation. He applauded the University for the resources it had devoted to making the program work, as well as the tenacity of the students who have agreed to a rigorous program of study and personal conduct over five years.
"An educated officer is a better officer," Zivkovich said. "This truly is groundbreaking and, we hope, a model for the rest of the country."
Graduating senior Patrick Healy '17 called the program "an outstanding opportunity," while junior Nicole Patterson '18 said the rigors of the program instilled discipline and a strong work ethic.
The police concentration is overseen by Lisa Lane McCarty, who came to Fitchburg State earlier this year after a career with the MPTC.