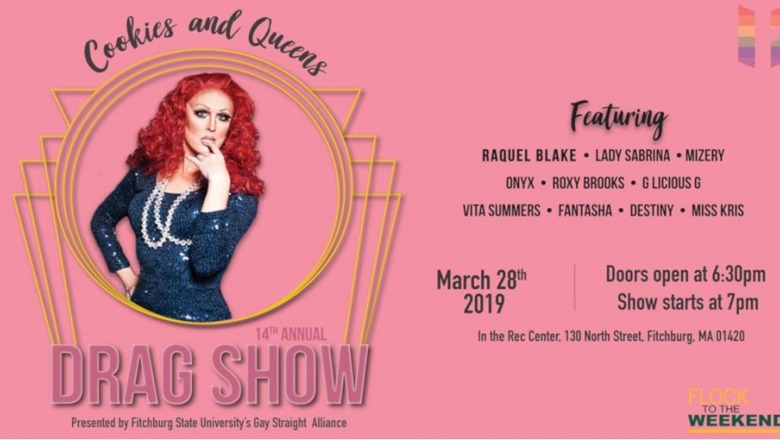 The "Cookies and Queens" annual drag show will be held at the Athletics and Recreation Center, 130 North St., Fitchburg. Doors open at 6:30 p.m.
This year's program will feature dancing and cabaret-style performances by 10 stage performers including Lady Sabrina, Mizery, Onyx, Roxy Brooks, G Licious G, Vita Summers, Fantasha, Destiny, Miss Kris, and Mistress of Ceremonies Raquel Blake.
Tickets are $5 for Fitchburg State students and $10 for the public. Tickets can be purchased at the information desk in Hammond Hall, 160 Pearl St., or through the event's Facebook page. All proceeds benefit the Fitchburg State LGBTQ+ Scholarship Fund.
Associate Director of Student Development Shane Franzen has supervised the development of the show since its inception.
"This year's drag show will pay homage to the struggles of the past that have brought drag into our homes," he said. "Women such as Lottie and Crystal LaBeija were pioneers who became 'mothers' of the 'houses' that formed communities of refuge for the LGBTQ youth in the last '60s. These families became the foundation of the ball culture and underground masquerades that allowed the LGBTQ culture to really be who they wanted to be without fear of judgment. The students of Fitchburg State's Gay Straight Alliance have also created an accepting culture with one of the most anticipated and highly attended events that the University has to offer."
The Gay Straight Alliance at Fitchburg State University will present the 14th annual drag show at 7 p.m. Thursday, March 28, building awareness and raising funds for the University's LGTBQ student scholarship fund.